Pan-American Flag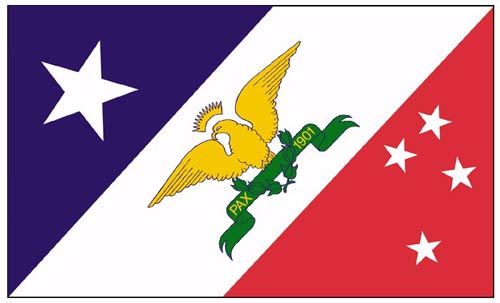 The Pan-American Exposition Company held a design competition for the flag to be displayed on hundreds of flag poles on the Exposition grounds, licensed to companies for the manufacture of small souvenir size flags, and emblazoned on various objects such as those at right. It was to be the Exposition Flag.
In January, 1901, Adelaide J.Thorpe won the competition for the best design for an official Exposition flag. The Exposition Company's executive board offered a $100 prize and Thorpe's was choses of the 300 designs were submitted. (Adelaide Thorpe was also the Assistant Director of Interior Decoration for the Exposition buildings.)
The Buffalo Evening News summarized her design thus: "It was the aim of Miss Thorpe to embody in the flag the national symbols of all the Pan-American countries. Accordingly, she selected for the basis the tricolor, the symbol of the Republic, in recognition of the fact that all of the Free States of the Occident have that form of government. The red and blue ar divided by a chevron of white. In the triangular blue field, next the staff, is the North Star. The blue and the star typify the countries in the cool Northern hemisphere. In the red, typifying the warm countries of the South, gleam the four stars of the Southern cross.
"A gold eagle, with outstretched wings, typifying freedom, occupies the center of the white field. Its head is surmounted by the sunrays of the Aztecs and Incas. In its talons is a streamer bearing the inscription P A X 1901, "Pax" signifying "peace," and at the same time its letter forming the abbreviation for the Pan-American Exposition."
For a more expansive interpretation, here is an article by a 1901 expert in flag symbolism here.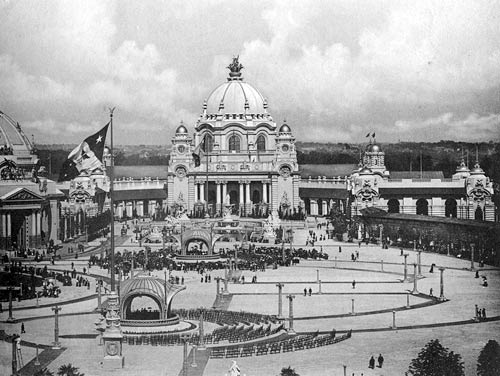 The view of the esplanade and U.S. Government building. The very large flag pole left center was painted pink, yellow, and orange with a background of green. The Pan-American flag was the most commonly visible flag on the Exposition grounds; U.S. flags and the flags of North and South American nations were also used in various locations. The pergolas flanking the Electricity building contained 24 flag poles with fancy streamers of green, white, red, and gold.
Pan-American flags flew permanent on flag poles at the five entrances to the Exposition. To prevent flags from wrapping around the flagpole, their sizes were carefully set in relation to the pole.