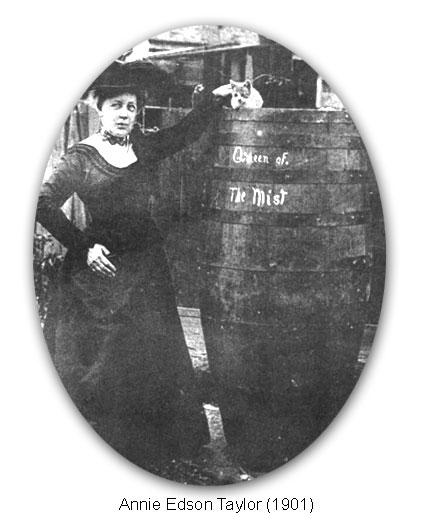 Annie Edson Taylor
Annie Edson Taylor was a 63 year-old widow in 1901. She was a teacher in Bay City, Michigan until she decided that there was more money to be made as the first person to go over Niagara Falls, provided she survived.
On her birthday, October 24, she succeeded in going over the falls in the pickle barrel pictured at left and living to tell about it. That made her the first person to survive the stunt and the first woman to attempt it. How she felt about the trip was probably summed up in her first remark after emerging from the barrel: "Nobody ought ever do that again."
Nine days later, at the November 2 Exposition "Farewell Day", Annie accepted an invitation to receive visitors on the Esplanade, reported by the Buffalo Evening News:
"Mrs. Annie Edson Taylor, who went over Niagara Falls on October [24], received thousands of people on the Pan-American Esplanade today. The hours set for her public reception were from 11 a.m. to 6 p.m. but it was nearer 12 o'clock when the first of the eager people paid respects to the daring woman who had braved death to gain notoriety.
"The West Esplanade band stand had been divided from the rest of the Exposition with a rope. At the foot of the stairs more rope formed two approaches to the stand. The people passed in one, around the stand where Mrs. Taylor sat, and out the other. There was a continuous stream of humanity, and Sergeant Smith Jackson and his squad of Exposition guards had their hands full keeping the lines straightened out and preventing crushes.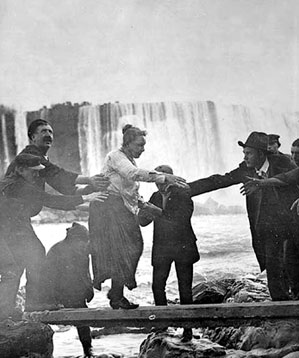 "Mrs. Taylor looks fully the 43 years that she admits. She has the appearance of a woman who has just risen from a sick bed. The cold air seemed to bother her and once or twice she was compelled to leave her receiving stand, to retire behind the big organ in the Temple of Music and get warm by the fires that are always going there.
"Mrs. Taylor did not shake hands with those who passed before her. She just smiled and bowed, and occasionally said something to some little child or older person who displayed some enthusiasm above the average.
"With Mrs. Taylor on the band stand were Capt. Johnson, whose device for strapping her into the barrel saved her life, the barrel itself, the straps, the bicycle pump with which air was forced into the barrel, and the black pussy cat, Iagara, which went over the falls in the barrel on the trial trip Oct. 18."
After her Exposition appearance, Annie Edson Taylor worked to make money from her feat by lining up speaking engagements and posing for photogaphs. Unfortunately, she did not elicit enough interest to make a living. She died in 1921 at the Niagara County Infirmary in Lockport, NY at age 83.
For more information, see the biography, "Queen of the Mist," by Joan Murray.