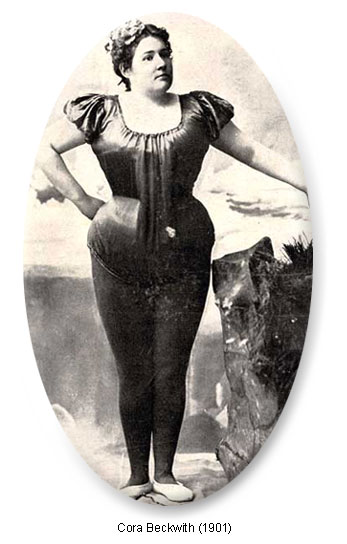 Cora Beckwith
Cora Beckwith's Natatorium was a Midway concession. For between $.15 and $.25 (exact fee not available at this time), you could see her "living, sleeping, and eating in the water."
Within the natatorium, the visitor saw Beckwith floating serenely "as a lily on a pond" in a shallow tank filled with 4 feet of water. From time to time she would demonstrate her breath-holding abilities by remaining submerged for two or three minutes. Prior to creating her act, she had lived in water for forty days, twelve hours of every 24 hours. At the Midway, she spent 9 hours every day in her pool.
She was described as " a woman with sleek hair as black as jet, with flesh as soft and pliable as that of a baby, whose form has been but the more delicately molded by its long caress with water and which, though a trifle stout, is yet in its full strength of a superb womanhood, her hands and feet prettily turned, and her shoulder and torso muscles as finely devleoped and as brawny as those of the most expert boxer, and whose eyes proclaim the delight she takes in physical exercise."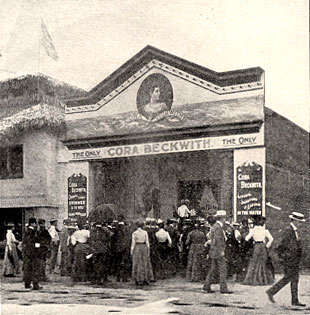 Nothing is known of Cora Beckwith's hometown or what she did after the close of the Exposition. Her concession was one of a handful of Midway concessions that made money during the Exposition season, coming away with $15,000 ($299,255 in 2000 dollars) after what presumably were modest expenses for costuming, etc.