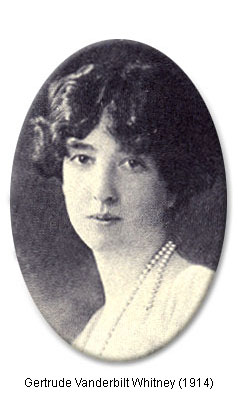 Gertude Vanderbilt Whitney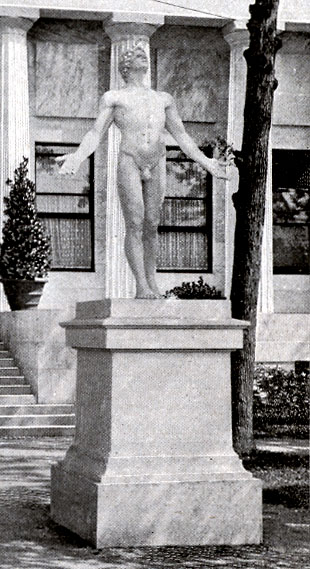 Gertrude Vanderbilt Whitney was the great-granddaugher of "Commodore" Cornelius Vanderbilt. She was raised in a world of privilege unimaginable to almost every American at the end of the 19th century. Although she fully participated in the social circuit of her peers, she regarded herself as neither a "society" nor a "social person." She married Harry Payne Whitney in 1896 and by 1901 at age 26, had given birth to two children. But her feelings of being "square [in a world that is] quite certainly round" led her to explore the world of expression through art and, in 1900, she began modelling lessons with sculptor Henrik Anderson.
Her first large piece, "Aspiration," was completed in time to be selected for the outdoor sculpture plan at the Pan-American Exposition. It stood before the entrance to the New York State Building (see image at right). This piece is never seen or heard of again after the Exposition.
But Whitney's career as an artist and patron of the arts is just beginning in 1901. She will develop her talents and earn the respect of fellow artists. Among the several studios she builds or buys for her use will be the one at 19 Macdougal Alley in the heart of the Greenwich Village sculptor's neighborhood. Her enthusiasm and patronage of new artists leads her to open this studio for private exhibits of new sculptors. In 1929, she will approach the Metropolitan Museum of Art with a proposal to donate more than 600 works of contemporary American art and to provide such funds as would be necessary to construct a wing to house it. The Museum declines to accept American art and refuses the offer.
Gertrude Vanderbilt Whitney will then remodel and expand her Macdougal studio and open the Whitney Museum of American Art, renowned today throughout the world. At her death in 1942 at age 68, she will forgive all debts owed her by the Whitney Museum and will endow it with $2.5 million dollars. She is less remembered today for her sculpture than for her vision and energy in promoting American art and artists as distinctive expressions of the American spirit.
For more information, see the biography, "Gertrude Vanderbilt Whitney," by B.H. Friedman