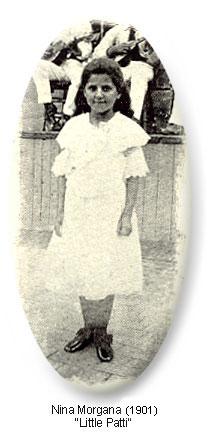 Nina Morgana ("Little Patti", "Baby Patti")
Nina Morgana, a 9 year-old Buffalo resident, was employed on the Midway as a singer at the "Venice in America" concession. Her family emigrated from Palermo, Sicily when she was 4 years old and lived near the Buffalo waterfront on the Terrace.
Her performances in the Italian Theatre and on the streets at the concession were her first paid performances; while singing outdoors in a gondola, she was paid in pennies by visitors. Because of her age and pleasing appearance, she became very popular among the visitors and locals alike. She sang 'Italian street songs" in Italian.
Nina Morgana would enjoy some success as a coloratura soprano opera singer. She returned to Italy to study voice, sang in La Scala and, in 1920, at the Metropolitan Opera. She retired from public life in 1935 to a life as a wife and mother and died at the age of 95.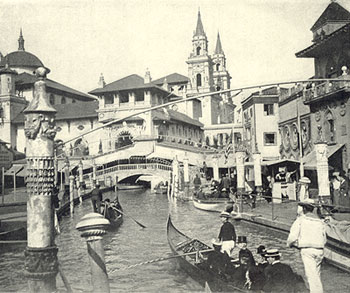 For more information, see the excellent Pan-Amercian web site by the UB Libraries:
http://ublib.buffalo.edu/libraries/exhibits/panam/music/personal/morgana/morgana.html