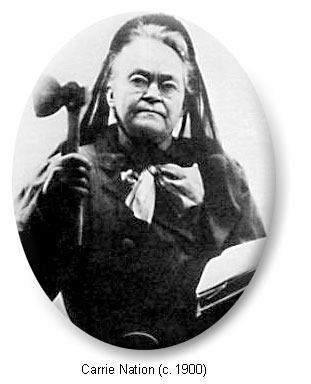 Carrie (Carry) A. Nation
Carrie Nation, nationally known temperance leader, had long-planned to visit Buffalo during the Exposition season. Mr. Edmund F. Goff, a Buffalo supporter of her crusade and member of the "Twentieth Century Forward Movement," said in early March 1901 that Carrie Nation would be his guest in August.
At 55 years of age, nearly 6 feet tall and weighing 180 pounds, Carrie Nation in 1901 was at the height of her notoriety. In January, she arrived in Topeka with a veil covering her face but was nontheless instantly recognized. That month she began to use the hatchet that became her trademark in attacking saloons and told an audience afterward, "Oh, I tell you, ladies, you never know what joy it gives you to start out to smash a rumshop."

She did not limit herself to lecturing to groups or to passersby on streets about the evils of alcohol, but also of freemasonry and tobacco. Religion dominated her life and punctuated her speaking. She was not respectful of anyone because of their religious vocation, however. She not only alienated her minister husband (who later divorced her) but, while in Buffalo, she had an argument with a priest in St. Joseph's Cathedral during High Mass who, she declared, smelled "so bad from cigarrette smoke."
She arrived in Buffalo on August 24, and the Buffalo Evening News offered lengthy quotes from her on what she saw at the Midway.
The next month found her lecturing at Coney Island after President McKinley died from his gunshot wound. She lost that engagement after announcing, "I had no tears for McKinley, neither have I for his assassination." Her justification for her attitude was that McKinley was the "Brewer's President" and "after his election he had been a constant disappointment to me" for his policies of permitting alcohol to be sold to soldiers at canteens.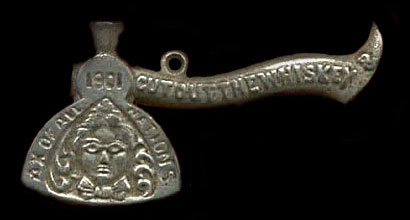 October found her back in Buffalo. By this time, a judgment had been issued against her in Kiowa, Kansas for a slander suit she lost. An order of sale against her property was issued and she began to sell souvenir hatchets to pay the fine. Unfortunately for her, Nation elected to sell them on the Exposition Midway as an unlicensed vendor. She was arrested and ordered to stop selling on the grounds, which she did.
From 1900 through 1910, Carried Nation was arrested over 30 times for leading supporters on attacks against saloons, exhorting them to "Smash, ladies, smash!" Although a member of The Women's Christian Temperance Union (WCTU), the organization tried to distance itself from her extremist tactics.
In 1901 Nation had 10 years left to live. She is described as spending those years on the lecture circuit, eventually retiring to her farm in Arkansas. She died in a mental institution in Fort Leavenworth, Kansas and there was some speculation that she declined into mental instability.