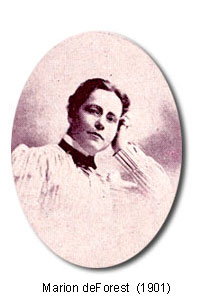 Marian deForest
Marian deForest was a Buffalo woman who made a living as a wrriter and reporter in 1901. She was also the Secretary of the Board of Women Managers, and had the responsibility to correspond with the women's clubs all over the United States and schedule their special days or receptions in the Women's Building on the Exposition grounds. This does not sound like a burden for a 37 year-old single woman until one realizes that there were thousands of women's clubs at the turn of the century.
Marian deForest's greatest achievements were before her, however. She wrote a number of plays which were successfully performed in New York and England, and had a drama column, "As I Go to the Play" in the Buffalo Express until 1924. Later she wrote drama for the National Broadcasting Company's radio program, "Neighbors."
But her most notable success was to come in 1919, when she founded the Zonta Club in Buffalo, N.Y., to bring together like-minded professional women who at that time were a distinct minority in the world of work and whose interests were not met by existing women's clubs. Before long a nine-club Confederation was formed in upstate New York which has grown to become Zonta International, with 34,000 members in 70 countries worldwide.
Marian deForest died in 1935. She will be inducted into the National Women's Hall of Fame in 2001.