The Women's Building was the only "recycled" building on the Exposition Grounds. The land leased by the Rumsey family for the Exposition had partly been utilized by the Country Club of Buffalo for golf and polo grounds. That organization constructed its club house in 1889-90. The structure was turned over to the Board of Women Managers for use during the Exposition.
It was a large wood-frame building with broad, shaded verandas on three sides located in the southwestern area of the Exposition grounds, outside of the Exposition plan. Surrounded by the gardens of the Horticulture exhibit, many found the area to be restful and beautiful compared to the grand scale of the Exposition buildings.
Board of Women's Managers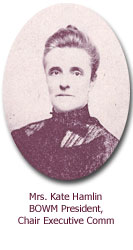 When the Board of Women Managers took possession of the building, they asked one of their members, Evelyn Rumsey Cary*, to provide interior decoration. The result was an assemby room capable of seating 125, offices, tea rooms, a reception space, and a "fainting room" among other spaces.
The intended use of the building was for the entertainment of visiting women's clubs, the wives of visiting dignitaries, and any other groups that the Board of Women's Managers deemed appropriate. When not in use by organizations that had previously reserved space for luncheons, teas, dinners, college reunions, club gatherings, the building was open to women (only women) touring the Exposition. They were free to use the reading room, write letters, freshen up, and generally relax. There was continuing confusion and complaint throughout the Exposition, however, about the purpose of the Women's Building. Many visitors had also toured the Chicago Exposition in 1893 and expected open access to the Women's Building in Buffalo as they had in the "White City." Pan-American Director General Buchanan attempted to persuade the Board of Women's Managers in June to permit open use of the space by women visitors to the Exposition; he had only minimal success. It appears that the Board of Women Managers' actions reflected what they viewed as a shift in the position of women in 20th century American life from a special group in need of sheltering or separate space to display their works to a position in the mainstream like men. Thus their building was not "for" women so much as "for entertaining" groups of women. That message seems to have been less than clear. But their views were carried one step farther when, prior to the opening of the 1901 Exposition in Buffalo, the club women of St.Louis declared that their 1904 World's Fair would have no special arrangements for women at all, not even a building for meetings.
*wife of Buffalo Architect Charles Cary who designed the New York State building, she also designed the Exposition poster, Spirit of Niagara