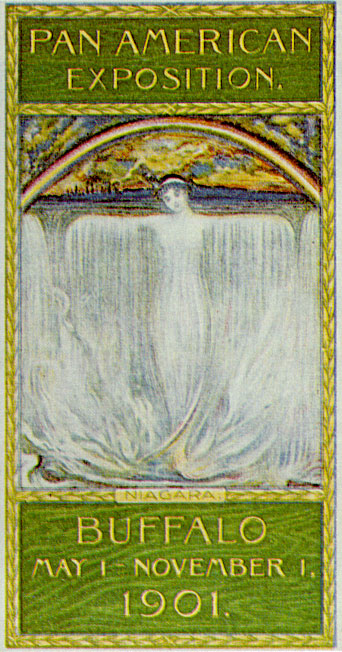 From "Profitable Advertising," JUne 1901
The "Spirit of Niagara" poster, by Mrs. Cary, was an artistic triumph, and shared the popularity of the Emblem... the original... was lithographed in nine colors. The "Spirit of Niagara" was also used to excellent advantage as an advertisement. It was lithographed in large poster size to the number of 120,962, while of a reproduction in four colors on cards 3 by 5 ins. 1,022,036 were printed. Moreover, a booklet treating of the Exposition had a similar reproduction on pebbled paper pasted on the front cover. There were 357,000 of these, making the total issueof the poster over 1,500,000. Besides, half-tones in black and white were furnished to the press, and thus given a circulation of many millions.
Some of the ways in which the poster was distributed are interesting. It was sent to 49,000 postmasters, together with the Electric Tower "broadside" and the birds-eye lithograph, with a request that the material be hung up in the post offices. This meant a great amount of work and considerable expense, but it was of great value, inasmuch as Exposition advertising was thus placed in the one special point in each town, village, and hamlet where the people of the vicinity were most likely to see it. Another effective method was the placing of one hundred of the posters framed under glass in as many of the finest hotels and clubs in the country.
So popular was the poster that requests for it were received daily by the Advertising Department.