The Life-Saving station, part of the U.S. Government exhibit, was constructed on the north shore of the Park Lake. It was designed under the supervision of James Knox Taylor in the Spanish mission style. The structure was intended to store the lifeboats and house the crews responsible for the daily demonstrations of the work of the U.S. Life-Saving Service.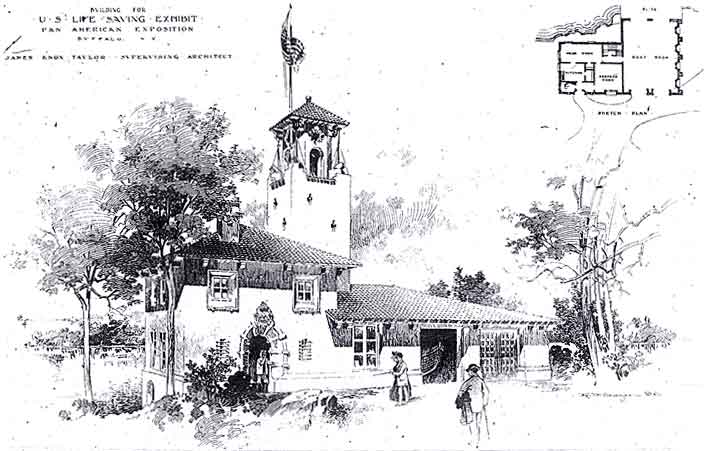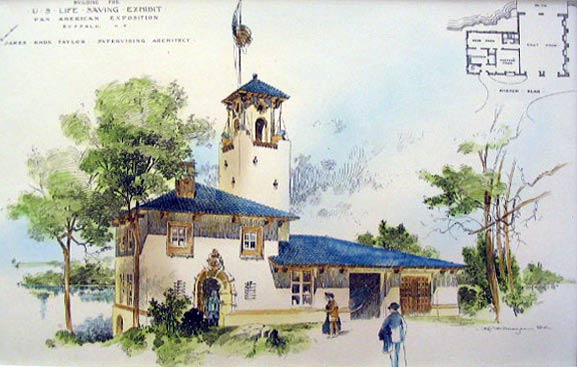 Here is the first floor plan.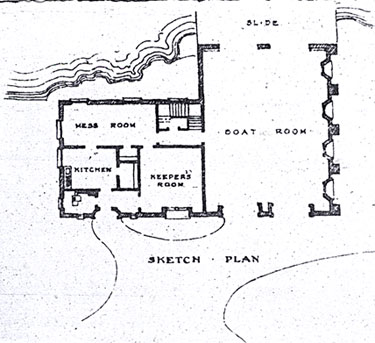 The Life-Saving Exhibit was professionally manned by members of the U.S. Life-Saving Service. Established in 1871, the Service established nearly 300 permanent, staffed stations along the Great Lakes, Atlantic and Pacific coastlines whose mission it was to rescue people from sinking ships.
The exhibit at the Pan-American Exposition was in charge of Lieutenant C. H. McClellan. The crew providing the daily demonstrations were supervised by Keeper H. Cleary.
The demonstration was given on the Park Lake each day at 2:30. Visitors were able to reserve seats on the bleachers built adjacent to the lifesaving building or observe from any convenient location; the fees for such seating were 10 cents and 25 cents. At 2:20, a warning gun sounded, calling all interested persons to the demonstration. The crew then spent 90 minutes demonstrating the launching of a surfboat; landing people from a wreck by the breeches buoy; and the rescue and resuscitation of an apparently drowned person.
The U.S. Life-Saving Service would merge in 1915 with the U.S. Revenue Cutter Service to become the U.S. Coast Guard.