The stadium designed for the Exposition was ostensibly an imitation of the Colesseum of Rome. It was designed by Walter Cook (Babb,Cook, & Willard), one of the eight key Exposition architects, and cost $125,000 to build. The color scheme was a light gray-ivory with pale blue-green window and door sashes. Flags flew all around the top of the stands. Its dimensions were 678 1/2' long and 450-1/2 feet wide, with a 20 foot wide, quarter-mile oval track and seating for 12,000 spectators. The local contractor, Tompkins, Hubbell & Fisher set up a lumber yard on site to plane the 2,000,000 million board feet of lumber needed to build the stadium. The wet spring weather created delays and the contractor was dismantling the lumber mill on May 11, four days before the first scheduled event.
The north side of the stadium under the stands featured training quarters 83 feet x 35 feet to accomodate 100-150 athletes at a time. There were lockers, twelve dressing rooms, six shower-baths, thirty-seven rubbing tables and other toilet facilities. The south side of the stadium under the stands was used for agricultural machinery exhibits.
The stadium was heavily scheduled, with athletic events (including college and AAU contests) competing for time with cattle judging, baseball, sham battles, festive parades, fireworks, and the appearance of President McKinley (September 5). The stadium was significantly on July 30 altered when a banked bicycle track was installed to showcase nationally known champion racers during the first weeks in August. It was also used for Buffalo Bill's Wild West Show, Volksfest singing, shooting, Canadian-American lacrosse championships, Scottish games, firemen's tournament, etc.
Built as a temporary structure, the enormous stadium became a topic of speculation as the Expostion's closing neared. A few wanted to maintain it as a permanent addition to the North Buffalo area. But it was owned by the Exposition company and stood on leased land, and so there was no serious contemplation of preserving an all-wooden structure whose decorative features were covered with staff. Like the rest of the Exposition buildings, it only appeared substantial. A news item from March 25, 1902, said, "The great Stadium of the Exposition has been attacked by the wreckers and it will be laid low in a few days."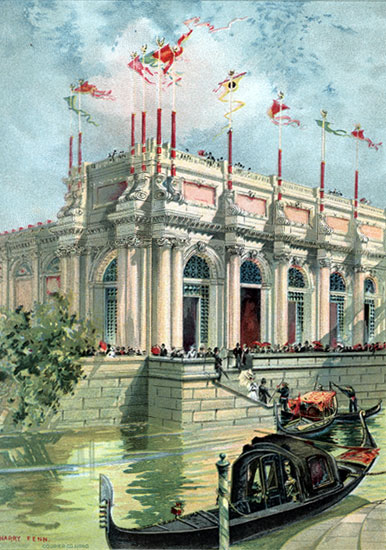 Architect's color illustration of the stadium as viewed from the canal.
An official image from the Pan-American Exposition Company.