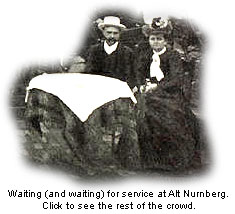 A hungry person was rarely more than a few steps from something to eat on the Exposition grounds. By the end of July, Sanitary Inspector Dr. Nelson W. Wilson reported that there were 36 restaurants, 15 kitchens in concessions and villages, and 57 soft drink stands on the grounds.
Liesurely Dining
Of these, there were 9 large restaurants managed by the Bailey Catering Company near the entrances and in the Electric Tower. See sample menus here.There were also numerous eateries in the various Midway buildings such as Alt Nurnberg, the Streets of Mexico, the Indian Congress, Beautiful Orient, Philippine Village, Fair Japan, Scenic Railway, Venice in America and the Pabst Pavilion. People today are not surprised to be able to choose from Italian, Japanese, German, Middle Eastern or Mexican foods, but for 1901 people this was a stunning amount of variety.
The Rice Association of America sponsored a popular Louisiana Rice Kitchen near the state and foreign buildings. The Nebraska Sod House was also a money-maker, despite being repeatedly written up and even closed down by the Pan-American Sanitary Office for unsanitary conditions. Individual concessionaires included Firmin Michel's Roast Beef Sandwiches, the Wellington, the American Inn. Mrs. McCready's Restaurant was touted in a guide book thus: "Here the visitor may procure foods of any description to satisfy 'the inner man.' A first-class restaurant in every particular and assured of a high-class patronage."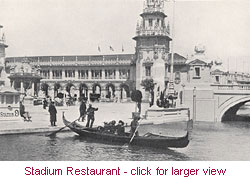 These were "sit-down" restaurants, where you could get table service. How much did it cost a foot-sore person who needed to sit down (in the shade, preferably) and didn't mind paying for the privilege? The charges varied widely, but most agree that the two most expensive places to eat on the ground were the Electric Tower restaurant (the higher of the two restaurants charged the higher prices) and Alt Nurnberg, a Buffalo concession that brought in famed New York restauranteur August Luchow (of Luchow's) to manage the restaurant. A frankfurter at Alt Nurnberg cost $.45 ($9.00 in today's money); whether a bun was included is not known! A cup of coffee at one of the Bailey Catering Concession restaurants cost $.10 ($2.00); if one had any money left over from the coffee, some pie baked in the Exposition Kitchen on the grounds might be a fine accompaniment.
These tidbits and other rumors quickly gave rise to the notion that one could not get anything reasonably priced to eat on the Exposition grounds. That was not necessarily correct overall, as will be seen in the next section, but it must be understood that all concessions at the Exposition were licensed and paid 25% of their profits to the Exposition Company.
Fast Food
Numerous small concessions were scattered across the Exposition grounds and inside buildings that provided sustenance to fuel the visitor without breaking his or her budget. It was easy to get a lunch for $.25 - $.50 ($5.00 - $10.00) at a lunch counter featuring stools. If you didn't need to sit down, you could purchase a sandwich and beverage (coffee, tea, or milk) for $.15 ($3.00) and wander to one of the 18,000 spaces on benches to eat it. Hard-boiled eggs could be had for 5 cents (the author suggests paying 10 cents to be sure they are not spoiled), and foods familiar to modern people included chowder and beans. Nowhere is there mention of a green salad, although there was a fruit concession run by J. A. McGinnis. For those who believe in the food value of snack food, it was hard to miss the popcorn boy calling out his wares, or the peanut vendors, and no one in July would want to miss the ice cream stands, even if cones wouldn't be invented for another 3 years.
Free Food
The best time to tour the Manufactures and Liberal Arts Building was around lunchtime because you could save yourself the cost of lunch by munching on manufacturers' samples in the Food Division. Almost everything was available, from soup, meat, bread, cakes, fruit and mineral waters. Here is an observer's recounting.
Bringing Your Own

The "box lunch" was a universal favorite method for Exposition visitors to bring their own lunch and thereby guarantee some economy and degree of sanitation to their gustatory experiences. The first mention of the box lunch appears in the News on May 21, the day after the enormous attendance of Dedication Day. Amid the "ocean of litter" left behind were a several thousand old shoe boxes that had carried lunches for the visitors and were discarded.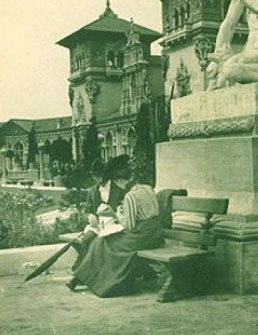 Box lunches were also a mainstay of the frugal travelers to the Exposition by train. From Ohio and points west and south rail travelers entered the Exposition and immediately found their way to their state's building on the grounds. There they deposited their box lunches for later consumption. There is no information on what kinds of food were packed for what would have been a 12-24 hour period without refrigeration.
And visitors could purchase a box lunch at a number of city restaurants which they could then carry to the grounds.

Food Safety
Expositions and world's fairs in the 19th century were subject to all kinds of rumors about poor health conditions which in many cases proved accurate. These were particularly damaging to the companies invested in the success of these enterprises because there were no cures for typhoid, tuberculosis, ptomaine and salmonella, or from any diseases arising from e. coli or staphyloccocus bacteria. The additional challenges posed by any food provider in 1901, namely lack of electric-powered refrigeration, made it a challenge to keep foods sanitary in both uncooked and cooked condition. Based on his surveys of past expositions and fairs, Exposition Medical Director Roswell Park, M.D., determined to prevent the outbreak of disease wherever possible at the Pan-American Exposition. His extensive planning resulted in success in this, despite the nearly 2,000 visitors reporting to the Exposition Hospital with 'digestive' complaints. For more details on inspection methods of Exposition concessionaires by his medical team, see Dr. Park's report.
Advice
Guidebooks tried to maintain some impartiality regarding eating establishments on the grounds by speaking generally about locations and vendors. But magazine writers were under no such restriction and could freely comment on what seemed expensive or tasty. Here is one opinionated author' advice. An observant commentator describes business at the small food concessions here.
New Foods
Here is an article from the Boston Cooking School's magazine, "American Cookery" (October 1901), which Mrs. L.O. Harris describes the types of foods she encountered at the Exposition.