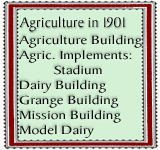 The Agriculture Building was located in the northeast area of the main axis of the Exposition. The building was narrow as it faced the Court of Fountains, only 150'; it was 500 feet long. On its south side, it faced the Manufacturers and Liberal Arts Building across the Mall. On its north side was the Stadium. Nearby on its east side across the canal were buildings related to agriculture: Grange, Mission, Dairy, Livestock Barns, Model Dairy, and the Agricultural Implements exhibit under the Stadium.
Designed by Shepley, Routan and Coolidge of Boston, Massachusetts, the building's construction cost was $90,000. It provided 75,000 square feet of exhibition space. Its north side had an open loggia (where additional exhibits were displayed); it was flanked by semi-circular arches and supported on cylindrical columns.
The primary exterior colors used were light yellow, blue and ivory, except at the entrances which also used red and green. The entrances featured the majority of the exterior decoration on the building. The south side, facing the Mall, was designed to be the main entrance to the Agriculture Building and was ornate with molded ornamental heads of domestic animals, fruits, vegetables, and flowers, all intended to reflect the building's purpose. Above the door and following the lines of the arch were painted panels representing the signs of the zodiac. In the entranceway, at the intersection of the loggia were statues representing "Sower" and "Reaper."
The east and west entrances were decorated with lattice work to imitate an arbor, set on a background of blue and grapevines to produce the effect of looking through to open air.
The agricultural exhibits were divided into 13 classes: agricultural systems, management, processes; agricultural statistics; cereals; tubers and root crops; by-products used for food; agricultural products otherwise not classified; grasses and forage; fibers of vegetable orgin and processes; non-edible products of animal origin; natural fertilizers, crude and compound; dairy management and appliances; dairy products. Exhibits relating to dairying and dairy products were assigned to the Dairy Building or Model Dairy.
For information relating to the interior design scheme, see the news article here.
Reporter Mary Bronson Hart commented favorably on the impression this building and its exhibits had on the visitor in her article, "How to See the Pan-American Exposition."

North