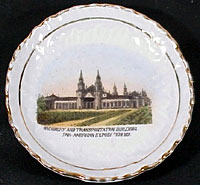 The well-to-do in 1901 considered eating an important business and Buffalo's wealthy kept up in every way with their New York relatives. They invested a great deal of money in frequent multi-course dinners lasting for hours that provided opportunities for the hosts to show off their house, their posessions, their cook; their guests, to show off their designer clothes and lively personalities. Above all, dinners among those of the same economic and social class provided necessary opportunities for the rich to "network", doing business with each other while entertaining and introducing their children to each other in hopes that they would marry within the class.
The Pan-American Exposition seem to have divided Buffalo's moneyed families into two groups, those who decamped to their summer homes or other vacation destinations such as the Adirondacks to get out of the congested city teeming with tourists, and those who remained and entertained their out-of-town relatives and guests who arrived in a steady procession all summer long. Even the most discriminating enjoyed a spectacle and the Exposition was a spectacle in every way.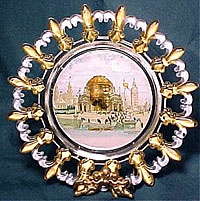 It is unlikely that these visitors stood in line for some fast food or rubbed elbows with others at the Pabst Pavilion, but they enjoyed places like Alt Nurnburg's indoor restaurant where they could dine on expensive but tasty German food prepared under the direction of August Luchow of Luchow's Restaurant in New York. Alt Nurnburg was so exclusive that Vice-President Roosevelt and his party were feted there, and some important dinners featuring Exposition investors were held there. Their hosts could also take their out-of-town friends up the elevator in the Electric Tower to the garden restaurant to dine expensively "above it all."
But there were other, more selective opportunities to dine on the Exposition grounds, occasions that required invitations. The most sought-after invitation of the Exposition was the luncheon served President McKinley in the New York State Building on September 5, where he dined with 210 other male dignitaries. The menu is here.
At the same time, Mrs. McKinley was expected at a luncheon for 65 women featuring Lobster a la Newburg in the Women's Building. Details of the decoration, menu and events of the afternoon are here.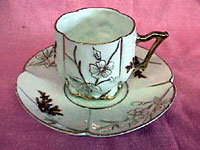 Armour & Company, the largest meat packer in the United States, offered numerous Exposition souvenirs, among them a set of six full-color menu cards, all of which required the use of Armour's Extract of Beef. They are included in this section because the menus are comprised of multi-course meals that the wealthy consumed, the middle class strived to imitate as their means allowed, and the poor could only imagine. Here are five of the menus.